28. VLDB 2002: Hong Kong, China
VLDB 2002, Proceedings of 28th International Conference on Very Large Data Bases, August 20-23, 2002, Hong Kong, China.
Morgan Kaufmann
2002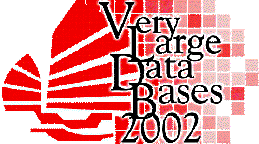 Ten-Year Best Paper Award
Information Retrieval and Databases
Maintenance of Statistics
Enterprise Data Management
Data Transformation and Integration
Database Applications in Science
Summarization in Data Warehouses
Monitoring and Data Dissemination
Data Management Challenges in Very Large Enterprises
Chair:
Michael L. Brodie
Panelists:
Adam Bosworth
,
James R. Hamilton
,
Patricia G. Selinger
,
Hans-Peter Steiert
The Future Home of Data.
Chair:
Johann Christoph Freytag
Panelists:
Michael J. Franklin
,
Per-Åke Larson
,
Guy M. Lohman
,
Guido Moerkotte
Biodiversity and Ecosystem Informatics - Research, Technology Transfer, or Application Development?
Chair:
Judith Bayard Cushing
Panelists:
Kathleen Bergen
,
Yannis E. Ioannidis
,
Jessie B. Kennedy
Industrial, Applications and Experience Papers
Design for Recoverability/Adaptability
Native XML Support in Relational Systems
Database Engine Optimizations
New Applications Challenges
Database Technology for the Web